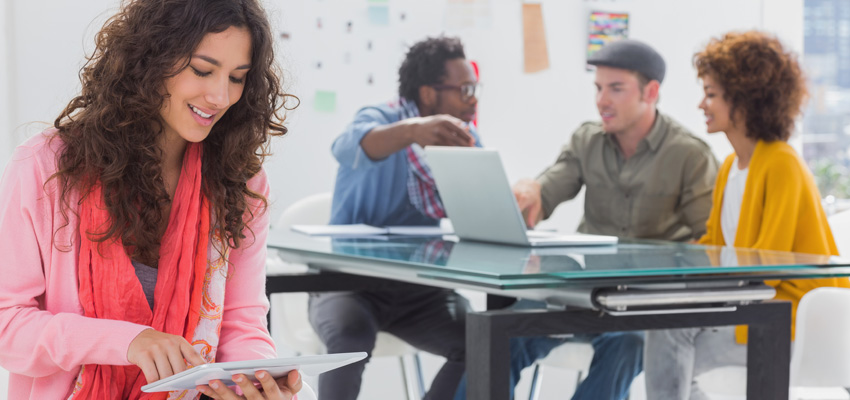 OSG Creative Studio
Uncover new possibilities, utilize the latest technologies and enhance the effectiveness of your customer communications through smarter, simpler and stronger marketing.
In today's competitive business environment it's more critical than ever that every piece of customer communication you send is engaging and impactful. The OSG Creative Studio is an in-house, full-service marketing firm that is here to help you meet your customer communication needs and enhance your brand and message.
Who we are
Our award-winning creative team is made up of a talented group of marketers, writers and graphic designers who can inspire you to not just promote your products and services, but also sell your brand, your vision and your business philosophy.
Why choose OSG for your creative needs?
As an extension of your own company, the OSG Creative Studio can help you produce a stream of relevant and timely customer communications. From full-page newsletters and letters from the president to customized dynamic messages on your statement or invoice, we can work with you to develop a lifecycle marketing campaign that will help optimize the customer relationship and help improve retention.
Our team combines fresh ideas and the latest technology with proven design methods to develop a customer communication solutions that meet your unique needs. We roll up our sleeves and work right alongside you until we meet your creative and marketing needs. Our unparalleled dedication to your company's goals makes us an essential part of your team.
Understanding customer communication management
Every opportunity to communicate with your customer is a chance to deepen loyalty and enhance the relationship. OSG has more than 20 years' experience delivering cross-channel billing and customer communications that drive value and retention. We understand that communicating with today's customer is no easy task. The OSG Creative Studio has the knowledge and the expertise to help you create customer transactions that deliver results.
Experience with different markets
To produce an effective customer communication tool that best meets your clients' needs requires a marketing firm that understands the various industries. The OSG Creative Studio has extensive experience and expertise in differentiating the nuances that make each client and industry unique. We believe that service excellence comes from having a solid understanding of each client's specific industry.
Capabilities
Graphic design
Brand identity
Copywriting
Print ads
Direct Mail
Email Marketing
Letters